Country Approach: Kenya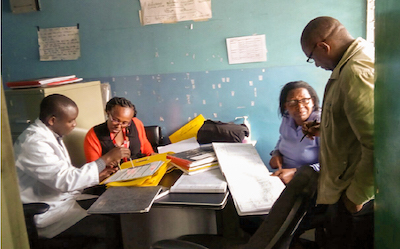 Since 2006, the Institute of Human Virology and Ciheb have used CQI to support all HIV programming in Kenya. Ciheb is currently implementing several projects, including two care-and-treatment programs. One is operating in Nairobi City County and the other is operating in Kisii and Migori counties in Western Kenya. These programs are known as Partnership for Advanced Care and Treatment (PACT) Endeleza and PACT Timiza, respectively.
PACT Endeleza and PACT Timiza work collaboratively with the national and county health management teams at the Ministry of Health (MOH) to train, mentor, and support assessments to facilities implementing CQI. Training is provided for leadership (county health and management teams) and other management staff working in the three supported counties. Focal persons (champions) for CQI at MOH are identified and appointed by the health directors of each county. Subcounty- and facility-level CQI champions are also identified. Ciheb supports the county health management teams (CHMTs) to oversee CQI activities. As of May 2020, CQI is actively implemented in 49 health facilities in Nairobi City County and in 241 health facilities in Kisii and Migori counties. In Kisii and Migori counties, a tiered approach is implemented based on the volume of the facilities. High volume with more than 1,000 active clients on antiretroviral therapy (ART) are classified as tier 1, more than 500 active clients are tier 2, and less than 500 are tier 3. The tiered system helps in a systematic approach to address CQI needs in each facility.
Achievements
Supported training and capacity building of more than 40 county health management teams of CQI.
Collaborated with the MOH national CQI team in the development and roll out of the Kenya HIV quality improvement framework (KHQIF).
Conducted joint facility CQI assessments including annual organizational assessments and bi-annual KHQIF indicator evaluations.
Conducted joint facility coaching and mentorship of work improvement teams (WITs) and facility quality improvement teams (QITs).
Conducted joint annual CQI work planning and development identification of indicators for improvement.
Facilitated and supported functionality of county CQI (technical working groups).
Trained more than 200 healthcare workers on CQI principles using the national developed curriculum and framework.
Conducted county-led CQI collaborative learning sessions and best practices on a quarterly and semi-annual basis.
Participated in the development and execution of health service delivery awards (HSDA) to recognize the best-performing facilities.
Collaborated and participated in national healthcare quality awards (Quality Healthcare Kenyan Awards)
Examples of CQI projects implemented
Increasing isoniazid preventive therapy (IPT) for the prevention of tuberculosis and its documentation.
Ensuring baseline CD4 counts for new clients.
Viral load testing uptake and viral load suppression monitoring across different populations.
Improving HIV case identification through index testing.
Providing linkage to ART.
Improving patient retention on ART, viral load turn-around time, prevention of mother-to-child transmission, early infant diagnosis, and key population retention.
Testimonial
Kepha Abuya, the county deputy AIDS and STI coordinator and county lead mentor in Kisii County, Kenya, describes the impact of Ciheb's continuous quality improvement (CQI) approach.