MKM Fellow Begins Clinical and Public Health Assignment in Zambia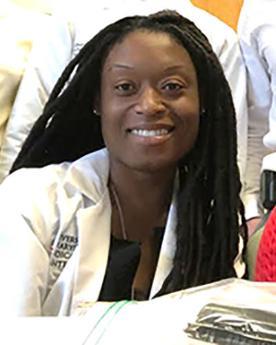 In the spring, Mona-Gekanju Toeque, MD, MPH, was awarded the first Maeve Kennedy McKean (MKM) Global Public Health Fellowship. The fellowship granted Dr. Toeque an opportunity to work in Zambia, where she will be conducting research and be engaged in clinical work and public health activities related to HIV treatment and prevention. The COVID-19 pandemic delayed her travel, but in September Dr. Toeque received permission to depart and arrived in Zambia several weeks ago to begin work.
Dr. Toeque will be working at the University Teaching Hospital in the capital city of Lusaka, where she will be conducting rounds and teaching. She will also perform research and help support Ciheb's ongoing HIV programmatic work. This is not Dr. Toeque's first Zambian experience. She had previously worked as a fellow in the country under a University of Maryland Medical Center infectious disease fellowship.
The MKM Fellowship is the achievement of Dr. Toeque's lifelong desire to help populations in low-resource regions. "To be able to help Zambian patients is such an amazing opportunity," she said. Dr. Toeque's interest and commitment to working in Africa stems from her upbringing as the daughter of Liberian immigrants living in Los Angeles. After Liberia's 14-year civil war ended in 2003, she visited family in West Africa and developed an appreciation of the unique challenges faced by the communities in the region, as well as a desire to contribute to their betterment.
She later found her career path in medicine and public health, first earning a master's in public health with an emphasis on urban health disparities and global public health. Before beginning her medical career, she provided HIV counseling and testing in Los Angeles County to sex workers, the homeless, teens, and others. From that experience, she went on to medical school and completed her residency in internal medicine. She completed her infectious disease fellowship at the University of Maryland, Baltimore in June 2020.
COVID-19 has impacted Zambia; however, Dr. Toeque indicates that it has not been as severe as in other nations, with a total of approximately 16,000 cases and 350 deaths (nearly all of the cases have since recovered). "People are taking precautions and wearing masks," she said. "As public health professionals, we are also driving home that message in our everyday practice."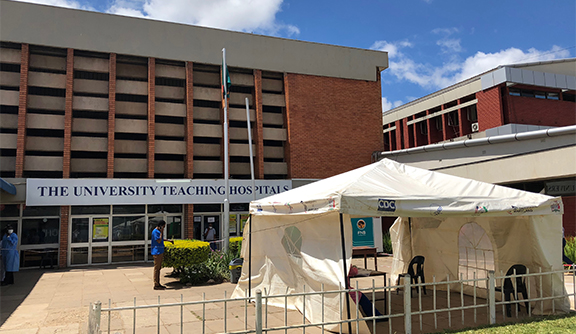 Challenges of Patient Care and Treatment
Dr. Toeque has observed three fundamental challenges in HIV patient care in Zambia compared to the United States: fewer available diagnostic tests, patient nonadherence with taking medication, and exposure to tropical diseases that can complicate treatment. "Because I have a good understanding of the available diagnostics and medications, I am able to deliver cost-effective patient care," said Dr. Toeque.
Another difference has to do with the treatment regimens. The World Health Organization (WHO) published guidance in 2016 (and updated it in 2019) on how to treat patients living with HIV using antiretroviral regimens involving different antiviral agents in a first-line, second-line, and third-line progression based on immunological, virological, and clinical status.
Zambia's Ministry of Health published its latest guidelines for HIV treatment and prevention in 2020, which generally follow that of the WHO. However, in Zambia, third-line treatment — which is prescribed when second-line treatment is failing — is not widely implemented and is mostly beyond antiretroviral therapy providers' reach. "The third regimen often includes drugs with higher barriers to resistance," explains Dr. Toeque. "Because of this, not enough is known about the efficacy and outcomes of such treatment for patients who have been on these regimens for some time, in terms of sustained virologic suppression."
Dr. Toeque intends to investigate the issue by studying the outcomes, tolerability, and symptoms presented by patients on a third-line regimen. "The hope is that what we find from our data can eventually impact future guidelines specific for third-line regimens for patients who are living with HIV," Dr. Toeque said.
DREAMS in the Kingdom of Barotseland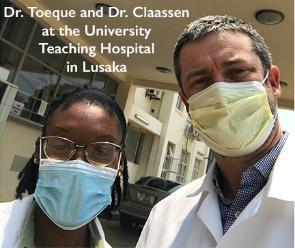 Dr. Toeque will be conducting research under the mentorship of Dr. Cassidy Claassen, a UMB School of Medicine assistant professor based in Lusaka. Earlier in October, Dr. Toeque accompanied Dr. Claassen to the local kingdom of Barotseland in the Mongu District of Zambia's Western Province. They met with the Kuta, the council of indunas (traditional elders), and local government leadership to discuss plans to implement the DREAMS partnership (Determined, Resilient, Empowered, AIDS-Free, Mentored, and Safe) under Ciheb's CIRKUITS project.
The Mongu District has one of the highest incidences of HIV in Zambia with more than 30,000 infections in the 15-24-year-old population. DREAMS seeks to reduce new HIV infections in adolescent girls and young women between the ages of 10-24.
On her trip, Dr. Toeque gained new insight into the technical and implementation challenges of carrying out such a project in a remote area, as well as becoming more familiar with the local customs and protocol. "Cultural respect and understanding fosters not only positive relationships but trust and acceptance of medical or public health interventions," she indicated. "One of the notably recognized barriers is gender inequality, rooted in Zambian culture and many other cultures, and being of Liberian descent, I could relate to this culturally. The positive side of this is that it is being recognized, and efforts are being made to change such norms."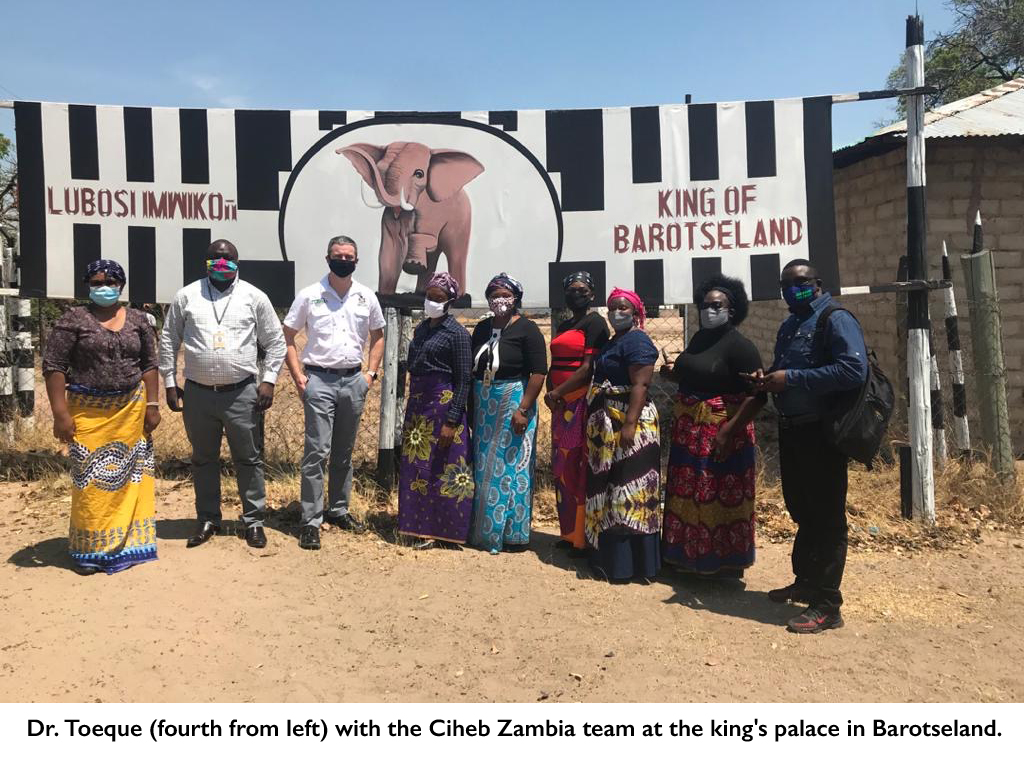 For the next eight months, Dr. Toeque will carry a full load of clinical, research, and programmatic responsibilities. She knows that the fellowship will enable her to further hone her career goals. "I know global health with a mixture of research and clinical work is something I would like to do long term," Dr. Toeque said. "In medicine, you experience the satisfaction of being able to assist a patient individually, and in public health, you can multiply impacts across a population," Dr. Toeque said. "I'm excited to be able to do both."