Traveling the Last Mile Toward Tuberculosis Epidemic Control in Botswana
Botswana has made significant progress in combating tuberculosis (TB). With the launch of the Botswana National Tuberculosis Control Programme (BNTP) in 1975, the country joined other nations committed to reducing the TB burden in sub-Saharan Africa.
By 1990, the TB burden fell to a low of 200 per 100,000 in 1990. However, with the advent of the HIV global epidemic, TB prevalence more than tripled to a high of 623 per 100,000, reversing the gains that had been made in TB control. The launch of the antiretroviral program in 2002 has played a significant role in the reduction of TB notification rates back down to 238 per 100,000 in 2019.
Recent program data show that TB-HIV coinfection rates are as high as 55%, making HIV the main driver of the epidemic in Botswana. The dual epidemics present more complex challenges for public health. The recent rise in the number of drug resistant TB cases threatens to reverse the gains made in TB control thus far.
More robust interventions are needed to attain the WHO's "End TB" strategy that seeks to eliminate TB by 2035. The U.S. government through the Centers for Disease Control and Prevention under PEPFAR, has been providing technical and financial support to reduce morbidity and mortality associated with TB. Although epidemic control has not yet been achieved, key metrics have improved over the last ten years, such as numbers of people developing TB and numbers of people with TB-HIV co-infection.
Celebrating World Tuberculosis Day
On World Tuberculosis Day (March 24, 2021), Ciheb celebrates Botswana's progress in combatting TB. Ciheb, through the Accelerating Botswana through the Last Mile of Epidemic Control (ABLE) project, is also helping to further that progress by providing data-driven technical assistance to the Ministry of Health and Wellness to achieve HIV and TB epidemic control through patient-centered approaches. Within its tuberculosis scope of work, ABLE provides screenings, linkage to antiretroviral therapy, TB treatment, and TB preventive therapy.
ABLE operates in 12 different PEPFAR health districts, 53 health facilities (13 hospitals and 40 clinics), and laboratory services that support all health districts.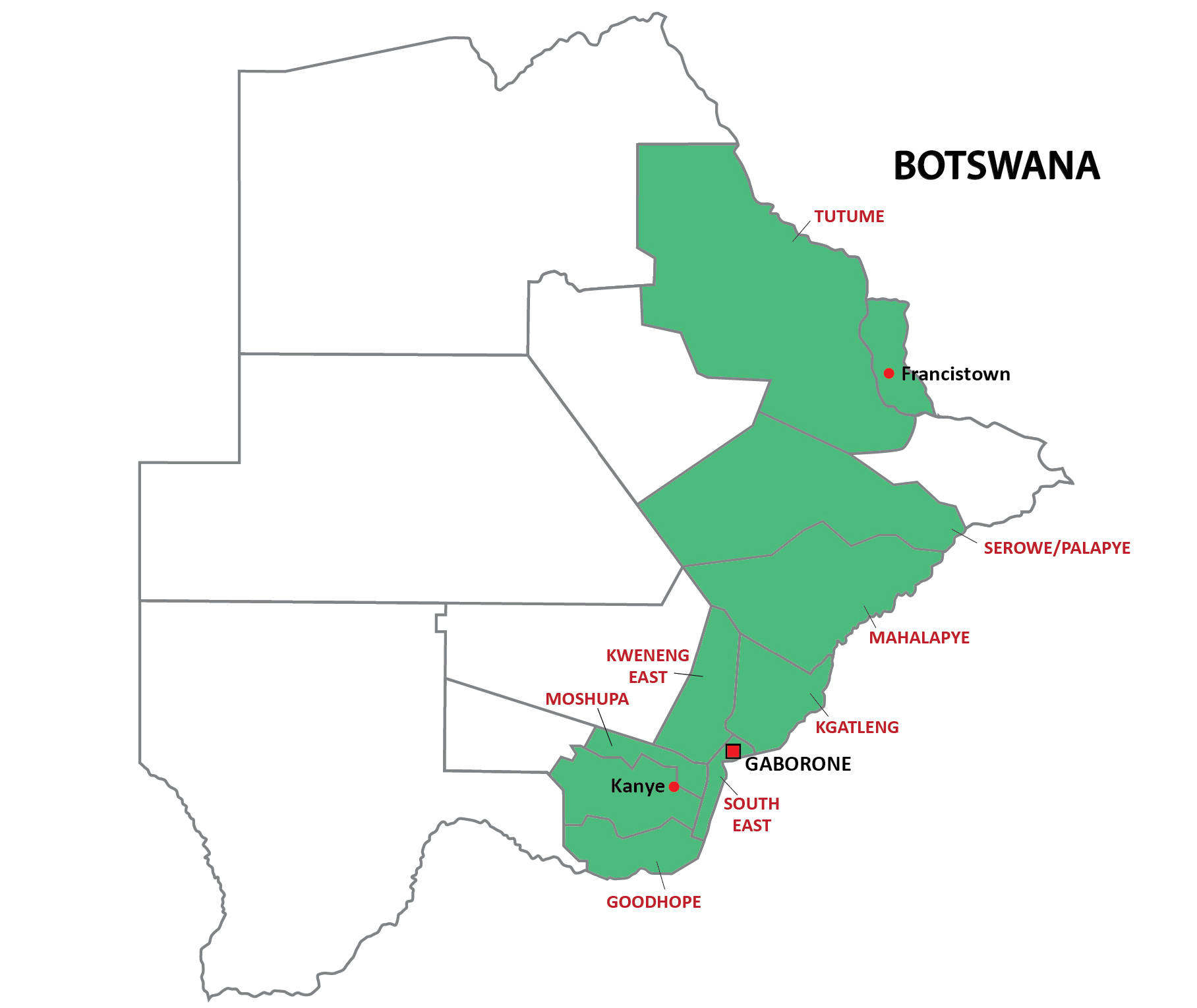 ABLE operates in the following health districts: Tutume, Francistown, Serowe and Palapye, Mahalapye, Kgatleng, Gaborone, South East, Goodhope, Kanye, Moshupa, and Kweneng East.
So far in 2021, ABLE has screened 80,400 people for TB in its 53 outpatient facilities and found a presumptive rate of less than 1% (562 cases). Out of these 562, 96 were confirmed TB cases.

Tuberculosis screening data from ABLE in the first quarter of 2021 in outpatient departments in Botswana
TPT Implementation
According to the World Health Organization, tuberculosis preventive treatment (TPT) is a course of one or more anti-tuberculosis medication that is given to prevent the development or progression of TB disease. Although TPT is a highly effective public health tool, it should only be offered to people who meet certain criteria, such as those were in direct contact with someone with active TB.
In Botswana, TPT was introduced in August 2019 — in accordance with the WHO's Consolidated Guidelines for Tuberculosis — but paused in March 2020 due to COVID-19 restrictions. Implementation picked back up in February 2021 in Kanye, Kgatleng, Kweneng East, and Palapye Districts. The remaining eight PEPFAR-supported districts are awaiting further TPT supplies.
To prepare for the TPT implementation, staff across the country have been trained in the methods. A total of 319 district health management team staff and 59 staff from Ciheb's local partner, Botswana–University of Maryland School of Medicine Health Initiative (Bummhi), have been trained on TPT.
Early results from the first quarter of 2021 at the first four facilities implementing TPT found a high rate of initiation on TPT among those eligible. Out of the 1,385 clients screened, 220 were eligible for TPT, and of those, 199 started on TPT (90.5%). The remaining clients continue to be counseled on the subject, as the staff hopes to initiate all on TPT.
Although the number of people eligible for TPT appears small, it may signal a positive indication. People can only take TPT every couple of years, and previous implementation in the Southern District may have shrunk the population eligible for TPT.