Impact Stories
In 2016, UMB through Ciheb partnered with the Centers for Disease Control and Prevention to implement a new five-year program called "Technical Assistance for Public Health Impact in Kenya" (TAPHIK), which helped fill a need for HIV research in Western Kenya and Kenya in general.
---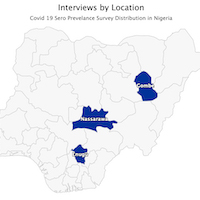 In the fall of 2020, Ciheb conducted the first phase of a COVID-19 population-based serosurveillance study in the Nigerian states of Enugu, Nasarawa, and Gombe. Ciheb created a data collection tool for the serosurveillance study known as the Computer-Assisted Personal Interview (CAPI).
---
HIV is a serious risk among adolescents in Kenya, and Ciheb has been helping address rising infection rates through Operation Triple Zero (OTZ). OTZ heroes share their powerful stories of struggle, stigma, and fear and how they overcame challenges and found restored hope.
---
An ongoing Ciheb Rwanda partnership with UNICEF is tapping into Ciheb's expertise in continuous quality improvement (CQI) to design strategies and interventions to reduce mother-to-child transmission of HIV at 18 healthcare facilities in the capital city of Kigali.
---
The CDC brought UMB via Ciheb Tanzania on as an implementing partner to expand a telementoring healthcare initiative called HIV Clinical ECHO Clinic. Since 2018, Ciheb has expanded it to all regions of Tanzania and increased the number of independently functioning hubs.
---
On World Tuberculosis Day (March 24, 2021), Ciheb celebrates Botswana's progress in combatting TB. Ciheb, through the Accelerating Botswana through the Last Mile of Epidemic Control (ABLE) project, is also helping to further that progress.
---
In Nairobi County, Kenya, health authorities have taken ground-breaking steps toward reducing the spread of HIV among people who inject drugs.
---
Tanzania has made considerable advancements in establishing national and integrated health information systems using the District Health Information Software 2 (DHIS2) platform.
---
Ciheb in Kenya staff working on the PACT Endeleza project have identified art therapy as a method to help child and adolescent people living with HIV to address psychosocial and emotional issues.
---
Ciheb in Kenya is leading a five-year smoking cessation study among HIV-infected people in Nairobi, Kenya. The study is examining how combinations of pharmacological and behavioral interventions may improve the chances of maintaining long-term smoking abstinence.
---