Full NAIIS Report Now Available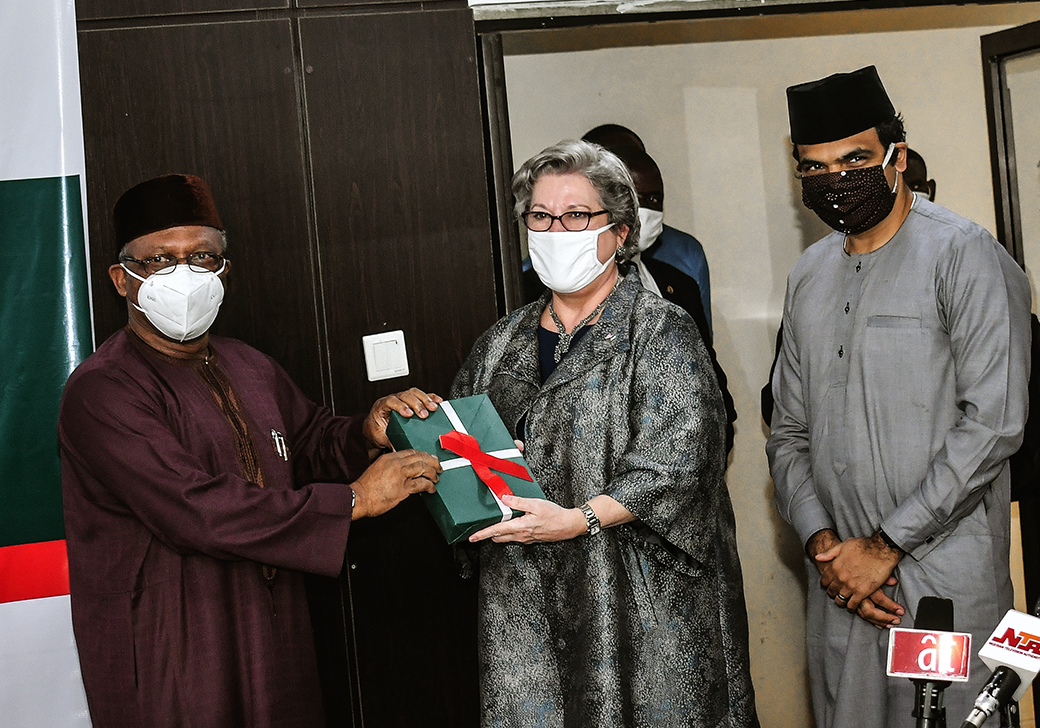 US Ambassador to Nigeria

Mary Beth Leonard (center)

and CDC Nigeria Country Director Dr. Mahesh Swaminathan (right) present a copy of a ribboned NAIIS report to the Honorable Nigerian Minister of Health Dr. Osagie Emmanuel Ehanire (left) during a formal presentation of the final report to the Government of Nigeria.

On September 25, Ciheb Nigeria and representatives of the US Government formally presented the 2018 Nigeria HIV/AIDS Indicator and Impact Survey (NAIIS) Report to the Government of Nigeria. Accepting the report on behalf of the Government was the Honorable Minister of Health, Dr. Osagie Emmanuel Ehanire. Also in attendance were the US Ambassador to Nigeria Mary Beth Leonard, CDC Nigeria Country Director Dr. Mahesh Swaminathan, PEPFAR Country Coordinator for Nigeria Mark Giambrone, UNAIDS Country Director Dr Erasmus Morah, and other dignitaries.
Ciheb worked alongside the Federal Ministry of Health and National Agency for the Control of AIDS in completing the survey, which was one of the largest population-based household surveys ever conducted that assessed the prevalence of HIV, viral load suppression, and related health indicators. The survey found that HIV prevalence—the percentage of people living with HIV—was lower than previously thought, allowing the country to refocus its services to the areas of greatest need to control the epidemic.
"This survey for the first time gave us the most reliable estimate we could have of the national

HIV

prevalence and incidence. With the survey, we have evidence to help us map out the road to end the

HIV

epidemic in Nigeria."



—the Honorable Minister of Health Dr. Osagie Emmanuel Ehanire


The NAIIS found that HIV prevalence among adults age 15-64 years was 1.5 percent and among children (age 0-14) was 0.2 percent. HIV prevalence was the highest among females age 35-39 years at 3.3 percent. The disparity in HIV prevalence between females and males was greatest among younger adults, with females having more than three times the prevalence of males in this group. NAIIS also found that the prevalence of viral load suppression, a measure of effective HIV treatment in a population, among Nigerian adults living with HIV was 44.5 percent.

Several speakers, including Dr. Ehanire, Ambassador Leonard, and Dr. Swaminathan recognized the University of Maryland, Baltimore and Ciheb Global Director Dr. Man Charurat and Ciheb Associate Director Dr. Kristen Stafford for their roles in carrying out the survey.
"I will also like to recognize CDC's implementing partner, the University of Maryland, Baltimore (UMB), for their tremendous efforts working with the Government and other partners to implement the survey and finalize the official report we are presenting today."

—US Ambassador Mary Beth Leonard
(Read the Ambassador's complete remarks)

"UMB, along with others, had to develop new methods for conducting surveys, things that had never been done before, to make this work. Those lessons learned are now impacting similar disease control efforts around the world."

—Dr. Mahesh Swaminathan, CDC


"On behalf of UNAIDS, I can say with confidence that NAIIS is the best thing that has ever happened to the Nigerian response to HIV. Absolutely the best thing.

—Dr. Erasmus Morah, UNAIDS
Snapshots from the Survey