PEPFAR Heroes Awards Announced in Kenya
The COVID-19 pandemic has created unprecedented disruptions for the global health and development community. During these unprecedented times, the US President's Emergency Plan for AIDS Relief (PEPFAR) has committed to ensuring that people living with HIV continue to receive the lifesaving antiretroviral therapy to stay healthy and maintain virologic suppression.
The PEPFAR office in Kenya recently announced this year's PEPFAR Heroes Awards with the aim of celebrating the unsung heroes within our community that have devised innovative methods during COVID-19 to reach the most vulnerable patients. Three individuals working with the Ciheb country office's PACT Timiza and PACT Endeleza programs, Lilian Okioga, Dr. Sheila Ayuya, and Dr. Jebet Boit, were among the award recipients.
PEPFAR country offices recognize individuals who make outstanding contributions to the prevention and treatment of HIV/AIDS. The three awardees in Kenya are being celebrated for their tireless effort to serve clients under the challenging conditions that emerged in the past year. The awardees will be honored during the PEPFAR World AIDS Day virtual ceremony on December 2, 2020. US Ambassador to Kenya Kyle McCarter will present the awards.
We have recognized how hard you have been working and we know it took a lot of effort for you and your team to protect HIV gains in Kenya. We are proud of your achievement, and we are sure there are more to come in the coming years.

— Tamu Daniel, DrPH MPH, PEPFAR Country Coordinator – Kenya
Lilian Okioga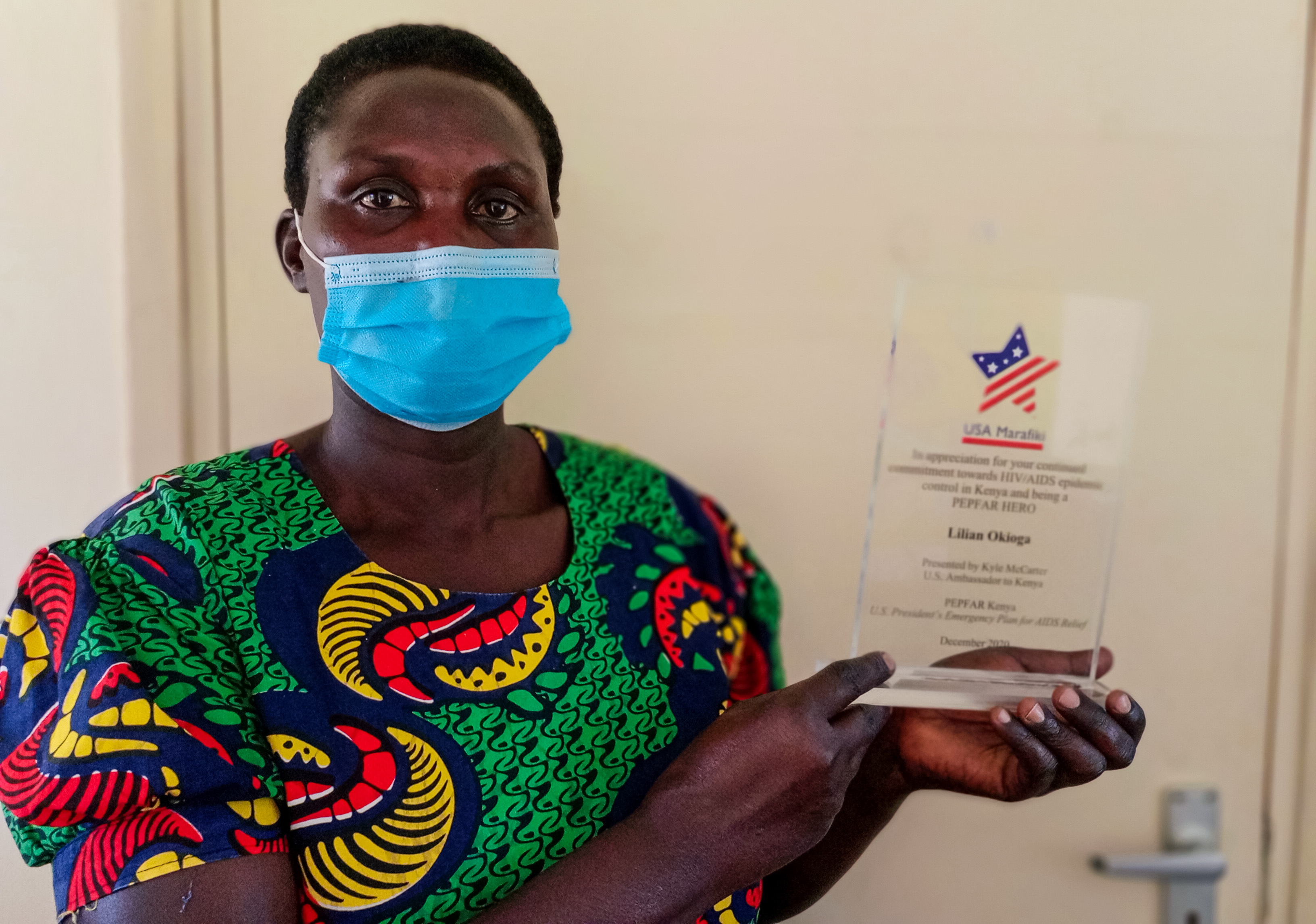 Ms. Okioga is a peer navigator/educator supported by PACT Timiza and works with peer clients at Nduru Subcounty Hospital in Kisii County. Nduru is a medium-volume facility serving 632 clients on antiretroviral (ARV) treatment.
When the initial cases of COVID-19 were reported in March 2020, what followed was an alarming spike in the number of missed clinic appointments. Ms. Okioga responded by reaching out to clients to determine why they had missed their appointments and categorizing them by location, whether they were elderly, and whether they feared coming to the facility because of COVID-19. She then began delivering ARV treatments to elderly clients and to clusters of clients in different villages. She also formed community support groups to facilitate greater peer-led adherence.
Ms. Okioga's innovation of case-by-case profiling of missed appointments for differentiated case management succeeded in reducing missed appointments substantially, and allowed for individualized attention that many at-risk clients, such as the elderly, lacked during this pandemic. Her strategy was also shared among other healthcare facilities in the region, which adopted the approach with good results.
Dr. Sheila Ayuya and Dr. Jebet Boit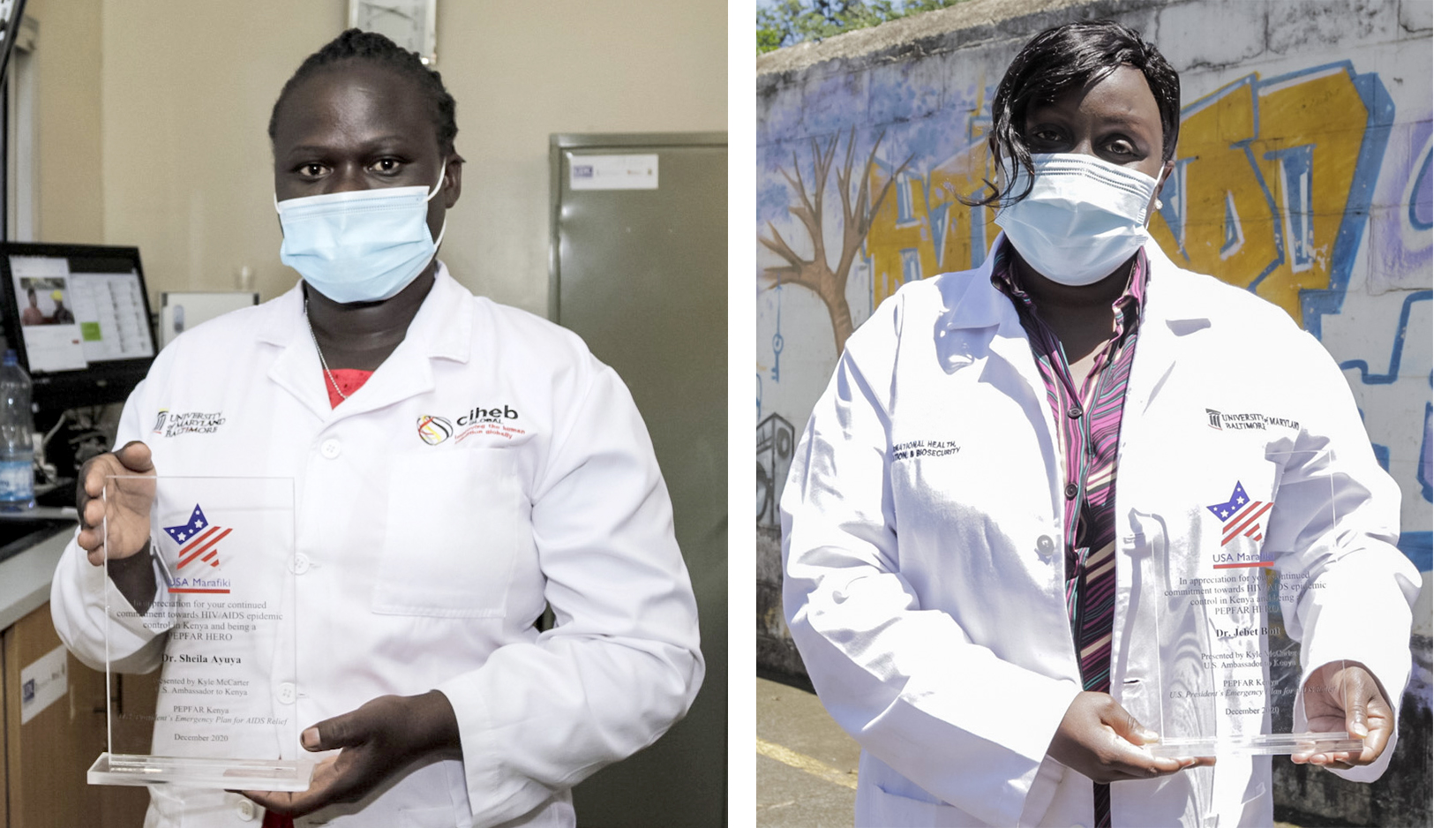 Dr. Ayuya and Dr. Boit are clinic leads at the PACT Endeleza–supported Ngara and Mathari medically assisted therapy clinics (MATs). At the onset of the COVID-19 pandemic, the Ngara clinic recorded the first healthcare worker COVID-19 case in the country. Coupled with global reports of frontline workers dying due to COVID-19 and the shortage of personal protective equipment, healthcare workers at both clinics became anxious about returning to work.
Unlike other service areas, the MAT clinics serve a large number of clients and so crowd control even without physical distancing is a challenge. Reports of theft and violent or aggressive clients in the MAT clinic are not uncommon. The clinics also serve a number of prisoners who receive a methadone dose at the clinics.
Dr. Ayuya and Dr. Boit were able to ensure the MAT clinic operations continued uninterrupted by developing and implementing clinic-level standard operating procedures in line with government recommendations covering screening, identification, referral, and psychosocial support of patients and staff; arranging MAT crisis meetings and psychosocial support for clinic staff; coordinating mass testing of all patients and staff; adopting an innovative shift system that allowed healthcare workers to be on two-week self-quarantine in between their shifts; and soliciting donations of masks which were distributed to the clients.
They also engaged the Kenya Ministry of Health's National AIDS and STI Control Program (NASCOP) to develop standard operating procedures to guide mobile van dispensing —a first for Kenya— and initiated methadone dispensing in prisons for incarcerated persons who use drugs.
Because of their efforts, the MAT clinics remained open during the pandemic, serving approximately 1,100 individuals daily. Individuals who had been lost were traced and re-inducted on MAT during the same period.