New Centers Supporting Girls and Young Women in Zambia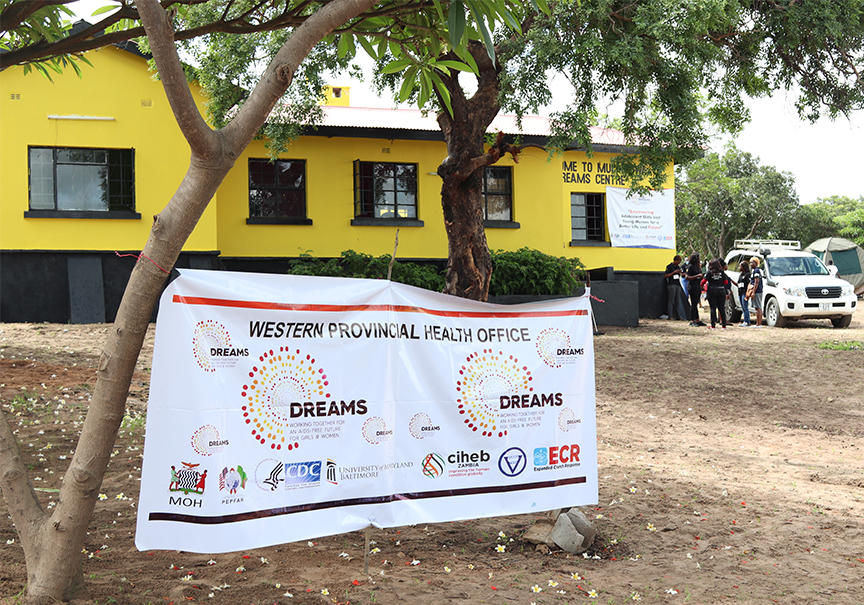 Ciheb is proud to announce the opening of six new facilities in Zambia to provide HIV support for adolescent girls and young women (AGYW). The facilities are located in Mazabuka and Monze Districts in Zambia's Southern Province, as well as Mongu District in Western Province. HIV incidence in these districts is greater than 1.5% among AGYW aged 10-24 years.
DREAMS Initiative
The centers are part of the DREAMS initiative[1] that Ciheb and its local partner Ciheb-Zambia are implementing together with the Zambia Ministry of Health and other partners under the ongoing Z-CHECK and CIRKUITS programs. The six centers will deliver a comprehensive package of core interventions to reduce HIV vulnerabilities.
"Empowering adolescent girls and young women and offering preventive services is one of the interventions that has been shown to reduce new infections. Providing them with a range of evidence-based services will not only prevent new infections, but also empower young women to become leaders in their communities."

—CDC Zambia Country Director Dr. Simon Agolory (from remarks given at the launch of the Mazabuka DREAMS Centers)
Staff training and other activities at the centers began in October and the official openings occurred on December 1 and 17. Across the six centers, Ciheb expects to reach approximately 30,000 AGYW.
The facilities are located in the communities of Liyoyelo, Mulambwa, Monze, Manungu, Kaleya, and Nakambala. The sites were selected in collaboration with the district and provincial health offices based on HIV incidence and the number of school dropouts and teen pregnancies.
For the past three years, the CIRKUITS and Z-CHECK programs have focused on HIV case finding using index-testing and social-network testing modalities, targeting key and priority populations. "CIRKUITS was looking at HIV testing and taking care of key populations," explained Ciheb's DREAMS Site Coordinator Priscilla Makasa. "We discovered most of the new cases we were getting for HIV were adolescents in the 10-24 age group."
Safe Spaces for Girls
There will be approximately 145 mentors at each facility provided by the YWCA who, along with ECR, is a partner on the project. The mentors will counsel approximately 60 adolescents each. Ciheb-Zambia's "site connectors" oversee the mentors and provide them with guidance.
"These DREAMS centers are places where where AGYW can come and open up and relate with their mentors," said Ciheb-Zambia's Deputy Chief of Party Linah Kampilimba Mwango. "They are safe spaces for the girls."
The centers feature an economic strengthening room to host skills-building training that will teach girls how to bake, make reusable sanitary pads, organize money saving groups, and other activities. A clinical service delivery room will be used for biomedical interventions, including HIV testing, pre-exposure prophylaxis (PrEP), linkage to treatment, family planning, and condom promotion and distribution.
DREAMS Site Coordinator Christine Bwale Shimbi (center) describes the services offered at the Mulambwa DREAMS Center to the Permanent Secretary of Zambia Western Province Mongu Danny Bukali (right).
Four Core Areas
Overall, the six centers are focused on addressing DREAMS' four core areas:
Empower girls and young women.
Reduce the risk of sex partners.
Strengthen families.
Mobilize communities for change.
Empowerment initiatives will include social asset building and economic interventions, including vocational training (as described earlier) and school subsidies. Reducing risks among sex partners will include measures to stem gender-based violence. "We take care of their partners as well, so that all the angles are tackled and the adolescents are helped as a whole," Makasa said.
To strengthen families, parents of the AGYW will be encouraged to participate in the parenting program Families Matter!, which focuses on fostering positive parenting and good communication. With regard to community mobilization, the project seeks to instill positive gender norms that empower AGYW and to create greater awareness and support for the overall program. The mobilization began early on with extensive community outreach with local stakeholders.
"When we started the project, we wanted to make sure the community was aware of DREAMS," explained DREAMS Site Coordinator Christine Shimba Bwale. "We started by visiting the indunas and the chiefs, so they're able to understand and give us the go ahead. In Western Province, to be able to do anything, you need to have their blessings."
Ciheb is glad to have these six new facilities open, which will help make a difference in the lives of adolescent girls and young women in the region. We look forward to providing further updates on their progress and impact.
[1] DREAMS stands for determined, resilient, empowered, AIDS-free, mentored, and safe. The initiative is a global, public-private partnership between the President's Emergency Plan for AIDS Relief (PEPFAR), the Bill & Melinda Gates Foundation, Girl Effect, Johnson & Johnson, ViiV Healthcare, and Gilead. The DREAMS initiative was launched in 2014 on World AIDS Days to empower AGYW and reduce HIV risks, while strengthening families and mobilizing communities to reduce gender-based violence. Among its objectives, DREAMS seeks to reduce new HIV infections in adolescent girls and young women between 10-24 years in Zambia and in nine other sub-Saharan African countries.