New Toolkit Aids Response to COVID-19 in Nigeria
Ciheb Nigeria has helped develop a concise guidance document, or "toolkit," to assist the Government of Nigeria in activating COVID-19 emergency operation centers at the sub-national or state level. It provides a blueprint and the resources needed for state-level officials to set up and operate public health emergency operations center (PHEOC) in response to the pandemic.
It is expected that COVID-19 PHEOCs will be activated across all 36 Nigerian states plus the Federal Capital Territory (FCT)-Abuja. However, only 34 states and FCT-Abuja have the physical infrastructure for a PHEOC right now.
These centers lead, control, and coordinate the response to public health emergencies, in this case COVID-19. The toolkit provides public health officials in Nigeria with a comprehensive guide that walks them through the steps of setting up and operating a PHEOC. The document includes a variety of resources, including form templates, external and internal communication strategies, and instructions on using the Zoom teleconferencing platform.

The Nigeria Centre for Disease Control (NCDC) activated a national PHEOC in response to the COVID-19 pandemic in March 2020 in FCT-Abuja, as well as in Lagos State where the index case of COVID-19 was detected. At that time, only a handful of states were able to activate a COVID-19 PHEOC due to lack of resources, capacity, and knowledge. The hope is that the toolkit will empower each state to establish a PHEOC, which would improve the local COVID-19 response and assist the national coordination of resources and the response to emerging hotspots.
"It's just like a war," said Saiki Adinoyi Musa, a surveillance specialist for Ciheb and the University of Maryland, Baltimore (UMB). "There are still people who are charged with being on the frontline. Those people have to be there physically, to assess the situation, to put in place measures to control the transmission, reduce the case fatality rate, and reduce the general burden of the outbreak while putting in place measures to prevent further occurrence."
Ciheb Nigeria is working with the Government of Nigeria and NCDC under the Strengthening Global Health Security in Nigeria (Secure-Nigeria) program, which is funded by the US Centers for Disease Control and Prevention (CDC).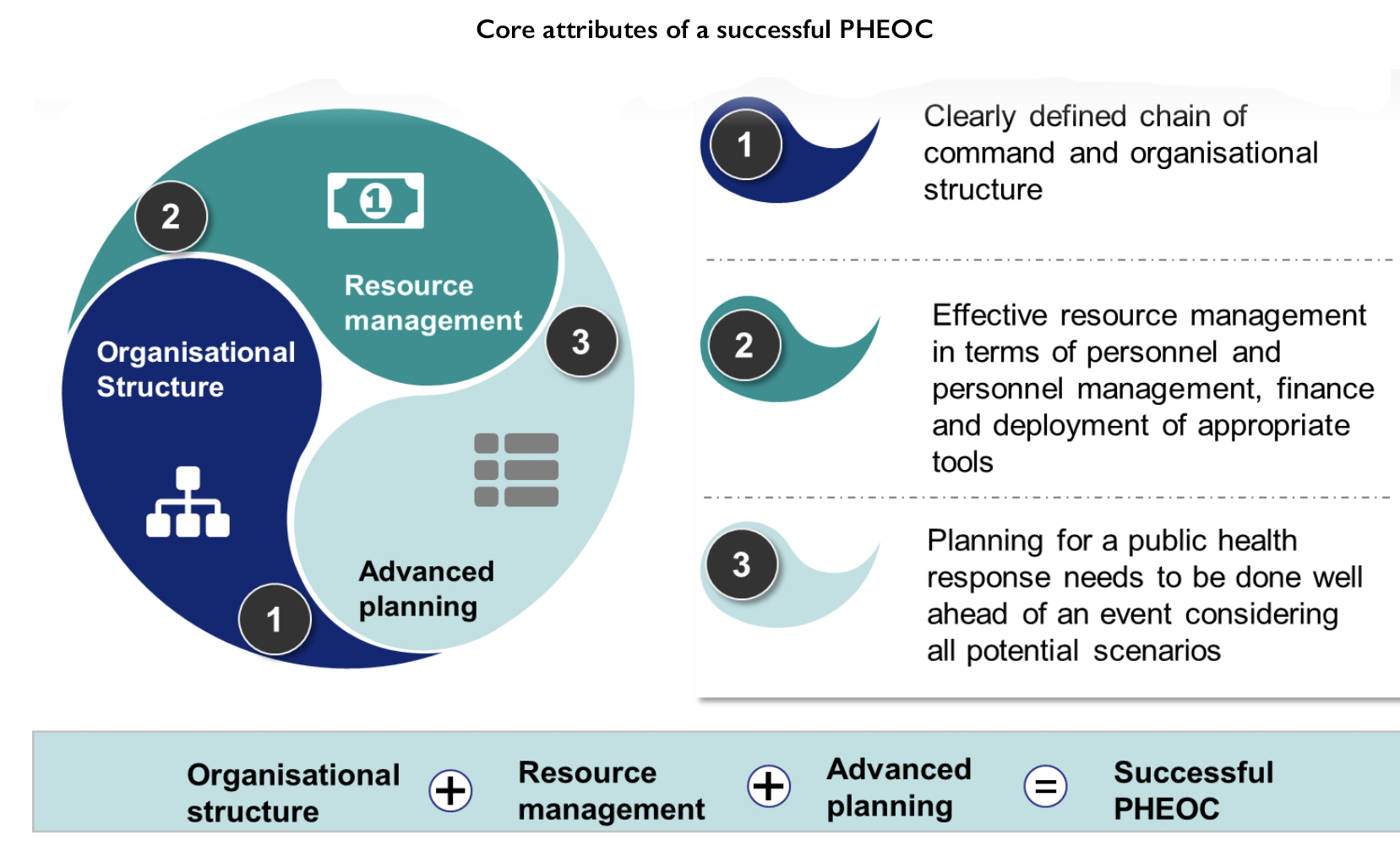 Public Health Emergency Operations Center Basics
As detailed in the toolkit, a PHEOC is a location that coordinates information and resources and combines highly trained staff and state-of-the-art technology to respond to public health emergencies and threats. The essential elements of a PHEOC include a staff who are skilled and already trained; an infrastructure of facilities and communication technology; and systems for handling data, plans, and procedures. A successful PHEOC must also have a clearly defined chain of command, effective resource management, and advanced planning.
Thanks to work from NCDC and the World Health Organization, Nigeria currently has 34 operating PHEOCs. The three remaining states without a PHEOC have been responding to COVID-19 from each state's Ministry of Health, and efforts are ongoing to bring PHEOCs to these states.
Nigeria is no stranger to infectious disease outbreaks and has mobilized PHEOCs in the past for cerebrospinal meningitis and yellow fever, for example. NCDC quickly activated a PHEOC in 2018 in response to a sharp rise in Lassa fever cases. Thanks to previous efforts in developing a plan, training staff in simulation exercises, and planning the logistics during outbreaks, the country was prepared and able to respond effectively.
For the ongoing COVID-19 outbreak, increased PHEOCs at the state level will help coordinate actions between government agencies, the private sector, nongovernmental organizations, and other groups.
COVID-19 Challenges Necessitate Virtual Collaboration
One particular challenge specific to COVID-19 is the risk associated with the congregation of staff at a center. Although PHEOCs typically call for a physical space to be the centralized command and control center, operations have now largely moved to a hybrid model with some key personnel at the command center and other staff working virtually.
Over 90 state-level officials attended a virtual presentation on the toolkit in late September. Musa said participants were excited to have a single document that brings together PHEOC best practices and guidelines from various sources. The next steps are to disseminate the digital and printed copies to the states.
The development of the toolkit reflects the strong and continuing partnership between Ciheb, NCDC, and CDC in Nigeria.