New REACH Project to Support Mental Health in Young Kenyans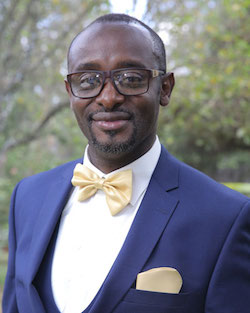 An award from the University of Maryland, Baltimore's (UMB) President's Global Impact Fund will provide much needed research on the burden of mental health among adolescents and young people in Kenya.
The World Health Organization estimates that mental health problems affect 10-20% of children and adolescents worldwide and that half of all mental illness begins by age 14. Unfortunately, mental healthcare is often not acknowledged, or there are a lack of sufficient resources. This is especially true in low- and middle-income countries such as Kenya.
This new project, called Reaching, Engaging Adolescents and Young Adults for Care Continuum in Health (REACH-MH), aims to identify mental health protective and risk factors among adolescents and young people using an established mobile app called REACH. Gathering data on mental health in Africa is often challenging due to stigma, but young people are more likely to provide candid answers through a smartphone than face-to-face interactions.
REACH-MH is a collaboration between UMB, the Kenyan organization LVCT Health, and the Kenya Ministry of Health. The principal investigator is Dr. Peter Memiah, an associate professor of medicine and Ciheb's director of continuous quality improvement.
"REACH-MH seeks to change the narrative from a conversation about mental illness to a conversation about mental health," Dr. Memiah said. "Mental health is, after all, more than depression, anxiety, or a bipolar disorder diagnosis. It should be your overall emotional and mental wellbeing, including both positive and negative attributes."
Collecting Responses Through the App
By soliciting information through digital technology, Dr. Memiah and his colleagues hope to receive greater participation from adolescents and young people. The data collected will allow for targeted qualitative interviews regarding the culture and complexity of adolescents and young people's lives to inform the development of tailored interventions, as well as the identification of barriers and facilitators of mental health about adolescents and young people at the individual, family, community, structural, and health-system levels.
REACH will be conducted in Kisumu, Nairobi, and Mombasa Counties to ensure geographic, cultural, and environmental variation in the project sample.
"In this recent era of 'holistic person care,' it is imperative to determine how to address and overcome the stigma associated with mental health," Dr. Memiah said. "If we are to address the social determinants that impact adolescents, we must first understand not only the challenges but the attitudes and norms regarding these challenges. It begins with us owning up to that fact that adolescents are a neglected group, while listening and understanding the challenges among this next generation."