New Project Re-Engages HIV Patients in Care in Zambia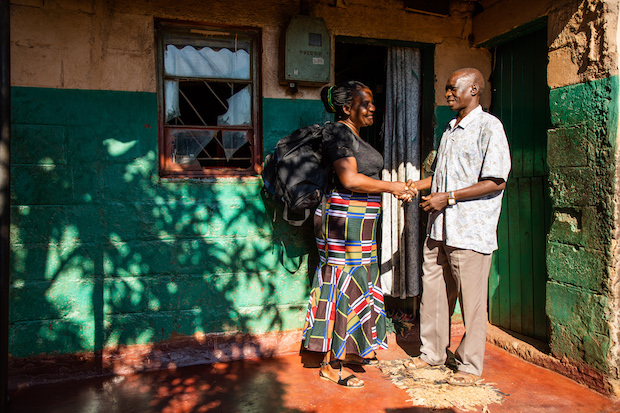 Ciheb's CHEC model that uses community health workers to improve the care continuum will be adapted for the Re-Charge project.
The National Institute of Mental Health and Ciheb in Zambia are partnering to address high rates of loss to follow-up and mortality with HIV patients after a hospital stay.
Most hospitalized people living with HIV (PLHIV) have experience with antiretroviral therapy (ART) but have a history of poor retention in care and viral suppression. Hospitalizations can also be a precursor to mortality: while inpatient mortality rates are 10-30%, an additional 20-40% die within one year of discharge.[1][2] Researchers at the University Teaching Hospital in Lusaka, Zambia, found patient mortality at 21% three months after hospital discharge.
The three-year project titled "Re-engagement at Discharge (Re-Charge): Improving Post-Hospital Outcomes for HIV-infected Adults in Zambia" will adapt the Community HIV Epidemic Control (CHEC) model to improve patient retention in care and viral suppression in the post-discharge period.
Dr. Cassidy Claassen, MD, assistant professor of medicine at the University of Maryland School of Medicine, is leading this research in collaboration with other investigators at UMB, the University of Alabama at Birmingham, and the University of Zambia to support the Zambia Ministry of Health.
Aims of Re-Charge
Re-Charge has three major components. First, researchers aim to better understand the barriers to HIV care for patients after being discharged from the hospital. This data will come from in-depth interviews and focus groups with these patients, their caregivers, and relevant hospital and community health staff.
The second prong is translating those findings to adapt the CHEC model into the discharge "d-CHEC" model. The CHEC model is an established, PEPFAR-supported initiative that uses community health workers to improve the care continuum by addressing patient- and system-level barriers. Based on CHEC's success, the Zambian Ministry of Health adopted the model as an approved differentiated service delivery model.
The third component is an evaluation of the "d-CHEC" model through a pilot-tested research study. Re-Charge will monitor outcomes for people before and after "d-CHEC" to assess retention in care at six months, viral suppression, and mortality. The goal is to increase the proportion of clients retained in HIV care by 30% after discharge.
Re-Charge is supporting the Zambia Ministry of Health, whose focus has shifted from test-and-treat models to models that seek to sustain long-term viral suppression.
"The project is significant as hospitalization remains common among PLHIV and is innovative because effective discharge interventions are lacking in sub-Saharan Africa, and few interventions specifically target re-engagement in care. Our multidisciplinary team is well-prepared to implement this project because of our strong understanding of the HIV health system and track record in implementing HIV programs and clinical research in sub-Saharan Africa."

—Dr. Cassidy Claassen
Using the "Side Door"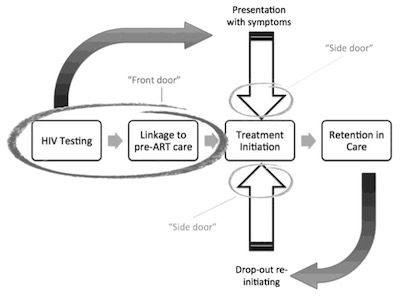 Re-Charge will fill a major gap in the current HIV care cascade. Inpatient hospital care focuses on stabilizing patients rather than understanding or intervening on the underlying suboptimal care engagement reasons that led to the hospital stay. After their discharge, many patients are lost to follow up, return to the hospital, or die.
In HIV care, patients typically progress from HIV testing to linkage to pre-antiretroviral therapy care to initiation on ART to retention in care. This is known as the "front door" of the HIV cascade. Patients who use the "side door" are those who dropped out of care but are later re-engaged at multiple points along the cascade.
This project is significant beacuse hospitalization is common among PLHIV. The results from Re-Charge will hopefully lead to new innovative, effective discharge interventions, which are lacking for PLHIV in sub-Saharan Africa.
---
[1] Peck RN, Wang RJ, Mtui G, et al. Linkage to primary care and survival after hospital discharge for HIV-infected adults in Tanzania: a prospective cohort study. Journal of acquired immune deficiency syndromes (1999). 2016.
[2] Wanyenze RK, Hahn JA, Liechty CA, et al. Linkage to HIV care and survival following inpatient HIV counseling and testing. AIDS and Behavior. 2011;15(4):751-760.