News
September marked the close of Ciheb in Kenya's two Partnership for Advanced Care and Treatment (PACT) programs, PACT Timiza and PACT Endeleza. Ciheb held closeout events in the three counties that it worked in – Kisii, Migori, and Nairobi City – to commemorate the two programs' accomplishments.
---
A Cohort Event Monitoring survey to examine and evaluate the safety of individuals following COVID-19 vaccinations in Nigeria has begun in five states of Bauchi, Edo, Enugu, Kaduna, Lagos, and the Federal Capital Territory, Abuja. This observational surveillance program's purpose is to monitor safety signal detection following the rollout of COVID-19 vaccines in the country.
---
Ciheb Nigeria, in partnership with the Federal Ministry of Health, recently facilitated a training to promote a culture of data demand among stakeholders to encourage the use of data on the National Data Repository (NDR) to track program outcomes and impact. The training also aimed to build the capacity of the stakeholders to maximize the use of data on the NDR for research.
---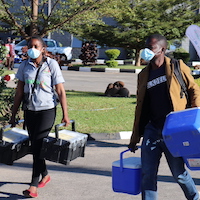 After a one month pause, the Zambia Population-based HIV Impact Assessment (ZAMPHIA) is prepared to restart field data collection in September. The survey now enters its final stage of field work following a break in August for the 2021 Zambian general elections.
---
The Fifth Botswana HIV/AIDS Impact Survey (BAIS V) has successfully completed six months of field implementation, and teams have demobilized out of the field. BAIS V reached nearly 20,000 participants, more than 13,500 households, and completed more than 10,000 household interviews.
---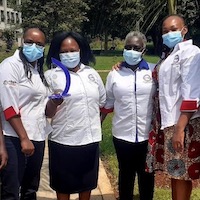 During the summer, the Nairobi Metropolitan Services (NMS) held its annual Health Service Delivery Awards to recognize best-performing health facilities in Nairobi County. Facilities supported by PACT Endeleza won awards in all categories they participated in. NMS evaluated facilities based on their performance in continuous quality improvement metrics.
---
The University of Maryland, Baltimore through Ciheb, in conjunction with the Malawi Ministry of Health and other partners, held an awards ceremony to celebrate the ISO 15189:2012 medical laboratory accreditation of six facilities in Malawi, four of which were supported by Ciheb.
---
Ciheb Nigeria, in collaboration with the Federal Ministry of Health, recently facilitated a three-day workshop for implementing partners, key stakeholders, and other parties of interest in the health sector to improve user education, understanding, and efficiency at all levels of the National Data Repository (NDR) implementation.
---
The second phase of a COVID-19 seroprevalence study in Nigeria has begun in Kano State in Northwest Nigeria and the Federal Capital Territory, Abuja.
---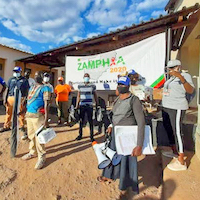 Now that COVID-19 in Zambia has improved, the Government of Zambia, in partnership with Ciheb and others, is moving forward with the relaunch of the Zambia Population-Based HIV Impact Assessment and have put in place all necessary safety measures to protect staff and participants.
---