Kenya
Ciheb's work in Kenya continues to make progress in building health systems capacity and in expanding prevention efforts for HIV and tuberculosis (TB). Ciheb is implementing five projects in Kenya funded by the National Institutes of Health (NIH) and the Centers for Disease Control and Prevention (CDC) under the President's Emergency Plan for AIDS Relief (PEPFAR).
Projects
Boresha Maabara. Swahili for "improve laboratory services," Boresha Maabara has been supporting the Kenya Ministry of Health, the National Public Health Laboratory Services, and the Kenya National Blood Transfusion Services to strengthen laboratory systems and provide national leadership for and coordination of the provision of sustainable high-quality TB/HIV diagnostic services.
The program has provided significant support to the National Public Health Laboratory for its oversight role of other laboratories in the country. It has also contributed to the development of national laboratory-related policy documents and national tools, enhanced inter-laboratory networking, reduced turnaround time for results, and improved the quality of tests. It has also contributed to the accreditation of national HIV and TB reference laboratories and regional laboratories.
Other laboratory-related achievements include strengthening technical working groups in 10 counties supported by the grant, improving the reporting, forecasting and management of lab commodities, entrenching the use of continuous quality improvement principles in lab services, and ensuring quality of rapid HIV testing services.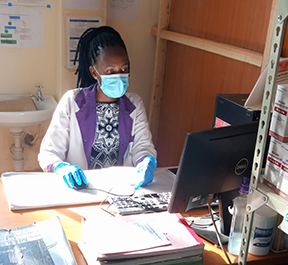 Partnership for Advanced Care and Treatment (PACT) Timiza and Endeleza. The PACT Timiza (timiza is Swahili for "fulfill" or "accomplish") and PACT Endeleza (endeleza is Swahili for "sustain" or "continue") projects collaborate with health management teams from the governments of Kisii, Migori, and Nairobi counties to provide universal, high-quality, comprehensive, and integrated HIV prevention, care, and treatment services across 289 health facilities.
Around 1 million individuals have received HIV testing services in both programs, with more than 105,000 identified as HIV positive and linked to treatment services. PACT Timiza was supporting over 87,000 clients on antiretroviral therapy (ART) (approximately 3,000 children <10 years and 5,700 adolescents 10-19 years) across 241 healthcare facilities within Migori and Kisii counties. Similarly, PACT Endeleza supported nearly 29,000 clients on ART (468 children <10 years, 844 adolescents 10-19 years) in 48 facilities in Nairobi, including 8 in community-based drop-in-clinics that serve key populations (i.e., female sex workers, men who have sex with men, and people who inject drugs).
These counties in rural and urban Kenya serve mobile populations at risk of poor treatment outcomes. The programs have supported the transition of adult populations to more effective antiretroviral regimens and established functional viremia clinics. They have also scaled up differentiated care models for various populations, including multi-month dispensing, institution of robust patient support systems, structured counseling, and patient tracking systems. The programs further provided voluntary male circumcision services—an intervention proven to be effective in HIV prevention—and provided HIV prevention services to female sex workers and men who have sex with men. In two clinics supported by the program in Nairobi, more than 1,100 people who inject drugs are receiving comprehensive harm reduction services, including medically assisted therapy with methadone.
Technical Assistance for Public Health Impact in Kenya (TAPHIK). The CDC-funded TAPHIK Project has collaborated with the Kenya Medical Research Institute (KEMRI) to pilot an HIV case-based surveillance system (CBS) in a region in Western Kenya where CDC has been partnering with KEMRI to support a health and demographic surveillance system (HDSS). The project developed an interactive point-of-registration and linkage system that was used to link the HDSS database to the medical records of HIV-infected individuals seeking care services at 14 pilot health facilities through an interoperability layer running on a Mirth platform.

Dr. Kristen Stafford (left), Associate Director of Ciheb, visits the PACT Endeleza-supported Ngara Health Centre.
Select sentinel events along the HIV continuum of care were extracted into the CBS database and used to monitor implementation and outcomes of HIV treatment. Furthermore, the program is at an advanced level of planning for piloting the use of the CBS system to collect information from facilities with paper-based records using scan forms and an open source software, Open Data Kit, to capture patient information from source records and transmit this to the CBS database for processing.
Tobacco Cessation Study. Ciheb's first NIH-funded randomized control trial is examining tobacco cessation pharmacotherapy and behavioral interventions among HIV-infected individuals. HIV has been shown to be associated with a greater likelihood of tobacco use, which further aggravates the risk of non-communicable diseases and which are now seen to be causing increasing morbidity and mortality in HIV. Unfortunately, smoking cessation interventions are not included as part of the comprehensive package of services currently provided in HIV treatment clinics. In this second year of implementation, the study conducted formative research, completing 50 participant interviews and three focus group discussions that provided useful information on the study populations and guided the finalization of the study instruments.
Continuous Quality Improvement
News and Impact Stories from Kenya