Bummhi Assists National Rollout of PrEP in Botswana

Enrolling an adolescent girl/young woman in PrEP
Bummhi — Ciheb's local partner in Botswana — has made key contributions to the introduction, rollout, and scale up of pre-exposure prophylaxis (PrEP) on a national level to help achieve the UNAIDS 90-90-90 HIV targets more quickly. The rollout process began in 2015 but significantly increased in the last year.
Between 2015-2016, the country began the process of adopting PrEP through consultation. Between 2016-2018, the country prepared for implementation. The initial phase of implementation took place between 2018 and 2020.
According to the Botswana National PrEP for HIV Prevention Social and Behaviour Change Communication Strategy, by 2017, 310,000 (86%) people living with HIV knew their HIV status, 300,000 (84%) were receiving antiretroviral therapy (ART), and 280,000 (81%) receiving ART were virally suppressed.
Early Stages
Soon after the World Health Organization recommended PrEP as a public health intervention in 2015, Botswana began consultation with key stakeholders to adopt PrEP as part of HIV prevention. PrEP is a medicine that is highly effective at preventing HIV when the medication is taken as prescribed. By 2016, Botswana had included PrEP in the ART guidelines.
Between 2016-2017, the country began preparations for implementation in earnest. The Department of HIV/AIDS Prevention and Care established a technical working group. A feasibility and implementation assessment was conducted to provide an analysis of PrEP's impact, cost, and cost effectiveness. The country also developed data collection tools and an implementation framework.

A mobile clinic for PrEP outreach services
Implementation and Scale-Up
By 2018, the country was ready to begin phased implementation of PrEP on the national level. PrEP was first offered to key populations and adolescent girls and young women (AGYW) in four districts, community-based AGYW in two other districts, and at six youth-friendly centers at government facilities in four districts.
As the implementation progressed over the years, PrEP has expanded from being offered in six facilities in September 2020 to 76 facilities in June 2021. Other progress includes healthcare worker sensitization and training of providers, on-site mentoring, and the integration of DREAMS and facility-community referral strengthening.
An expansion of the number of faciltiies that PrEP is offered in.
Between October 2020–July 2021, and despite the COVID-19 pandemic, the scale up has seen progressively increasing numbers of clients newly initiated on PrEP. During the first five months of this period, there was an average of 63.6 new clients initiated on PrEP, which jumped to 486.2 in the next five-month period. Part of the improvements could be attributed to two changes enacted in the first five-month period: the recruitment of a PrEP focused technical team and the recruitment and deployment of a PrEP linkage assistant.
The Ciheb-supported Accelerating Botswana through the Last Mile to Epidemic Control (ABLE) grant in Botswana has supported the initiation of 2,277 clients on PrEP since October 2020, with 70% of clients initiated in the last quarter alone (see figure below). The progress towards the annual target for PrEP initiation at PEPFAR-supported districts was 94% at end of the third quarter.
New clients initiated on PrEP through the ABLE grant in the last three quarters.
One of the priority populations for PrEP enrollment to mitigate the spread of HIV is adolescent girls and young women (AGYW). The current results from ABLE of newly initiated on PrEP across DREAMS implementing districts show that more than 54% (968/1790) of clients enrolled on PrEP are AGYW.
Proportion of AGYW in PrEP new initiation at DREAMS implementing district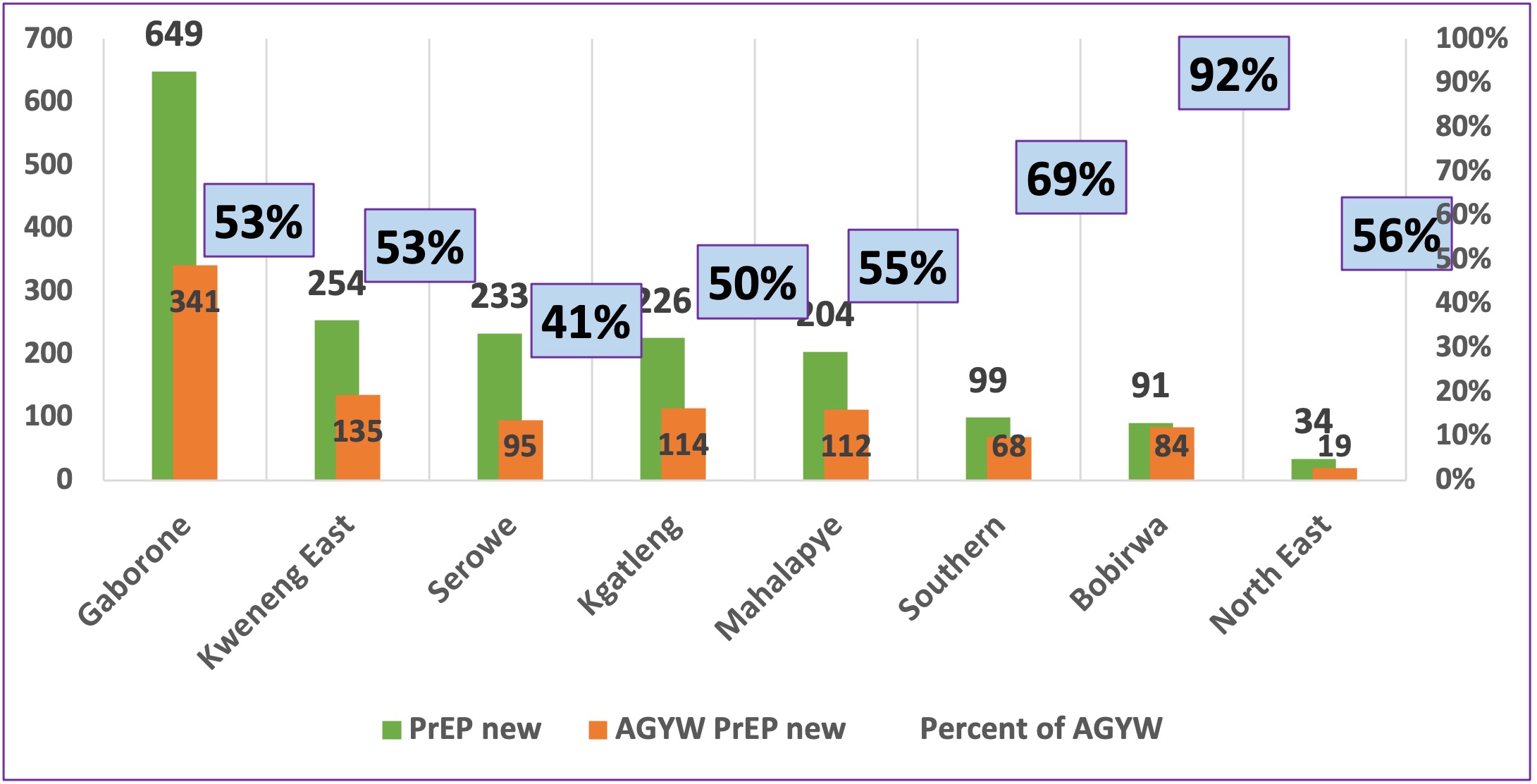 Challenges and Opportunities
There have been many lessons learned in the first few years of the national rollout that will help to improve implementation. There remains a challenge of hesitancy by both clients and providers due to a misconception, lack of understanding, or conflict with their personal values about PrEP. A serum creatinine reagent stock-out of more than two months in the Mahalapye District also created additional challenges.
On the other hand, there are many opportunities for knowledge sharing and learning from peers. Bummhi can leverage Ciheb's experience working with PrEP in other countries, and some excelling facilities in Botswana have already begun peer exchange and collaborative learning sessions.